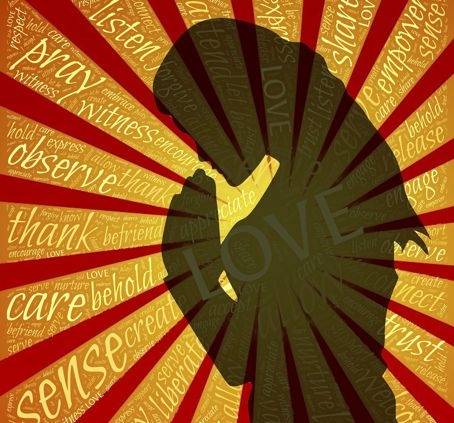 A decade and a half ago, just before I launched the first Women's Wellness Circle, I invited a group of holistic practitioners to come together at our local library to share ideas, resources and mutual support.
I was grateful and elated with the response and turnout.  Over 50 people showed up, and we had a fun, empowering and community spirited experience.
I had come to know several of these people through the wellness cable TV show I was hosting and producing as well as others through networking and personal connections.
Since that time, many of these individuals have been presenters at our Women's Wellness Circles.  'Love how the connections continue to expand and strengthen!
Although the road less travelled can be very rewarding, it can also feel lonely and confusing at times, especially as an entrepreneur in the wellness field.  This was even more so years ago when I first had the inspiration to call forth this meeting.
So it made sense to come together, to recognize and to affirm that we aren't alone.  While our wellness offerings may differ in appearance, at the core we share similar and complementary values and paths.
As I was preparing for this gathering, one of my fellow wellness colleagues shared this powerful Hopi message with me.  I knew it was perfect to share with the group, so it was part of my opening remarks.
Reading it over again now, I can see that the words are just as true, if not truer.  Therefore, I'd like to share them with you.
Take heart, feel the message, and know that while we continue to be in an incredible period of change, you are not alone.  We are the ones we've been waiting for.
A Hopi Elder Speaks…
"You have been telling the people that this is the Eleventh Hour, now you must go back and tell the people that this is the Hour and there are things to consider . . .
Where are you living?
What are you doing?
What are your relationships?
Are you in right relation?
Where is your water?
Know your garden.
It is time to speak your Truth.
Create your community.
Be good to each other.
And do not look outside yourself for the leader."
Then he clasped his hands together, smiled, and said, "This could be a good time!
There is a river flowing now very fast. It is so great and swift that there are those who will be afraid.  They will try to hold on to the shore. They will feel they are torn apart and will suffer greatly.
Know the river has its destination. The elders say we must let go of the shore, push off into the middle of the river, keep our eyes open, and our heads above water.
And I say, see who is in there with you and celebrate. At this time in history, we are to take nothing personally, least of all ourselves. For the moment that we do, our spiritual growth and journey comes to a halt.
The time for the lone wolf is over. Gather yourselves! Banish the word struggle from your attitude and your vocabulary. All that we do now must be done in a sacred manner and in celebration.
We are the ones we've been waiting for."
Hopi elder,
Hopi Nation
Oraibi, Arizona
Perhaps this message resonates with you as well?
As we begin to shift towards a new season, you may feel drawn to create some new experiences for yourself, learn some new self care and wellness strategies, and share in a welcoming and vibrant community oriented space.
If so, Women's Wellness Circles invite you to take part!
After all, we are the ones we've been waiting for.
Jill Hewlett
Founder and Mentor of the Women's Wellness Circles
Brain Fitness Expert and Wellness Authority|
www.jillhewlett.com
https://womenswellnesscircles.com/wp-content/uploads/2019/09/blog-prayer-words.jpg
423
454
Jill Hewlett
https://womenswellnesscircles.com/wp-content/uploads/2018/05/JILL_WWC-logo-1024x614.png
Jill Hewlett
2019-09-03 07:26:30
2019-09-02 15:34:46
Hopi Prayer