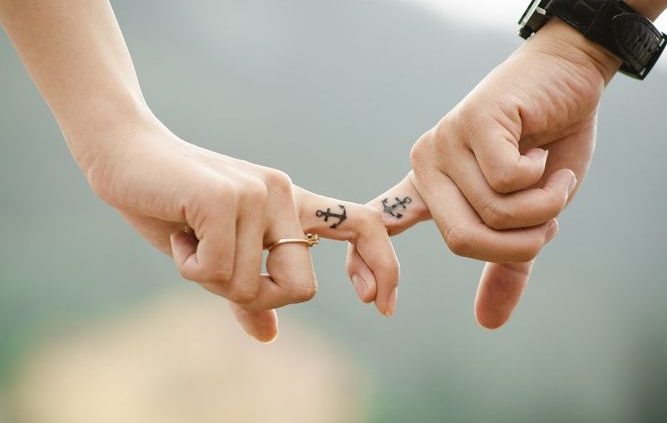 Love is a beautiful and yet confusing subject, one that has been explored, defined, and redefined throughout history. Like with so many other complex concepts, guidebooks are offered, and theories and models are tested, in order to discover how to build successful relationships.
While books on this topic are endless, the one that my husband and I have found to be truly transformative is called Wired for Love by Stan Tatkin. This book reinforces "a new marital narrative…a conscious partnership."
Tatkin explains in this new story about marriage, the commitment shifts from the needs of self to the needs of a relationship. To make this shift, he offers 10 principles.  I would like to address one of them, my favorite by far, "The Couple Bubble."
As human beings we are naturally predisposed to the need to feel safe and secure. We all seek our very own comfort or safety zone. For this reason, we seek out a partner and/or a family and friend group.
According to Tatkin, if you're in a marriage that feels compromised, what both partners can ask themselves is: Do you see yourselves as individuals first and as a couple second, or vice versa?
The "couple bubble" is a term Tatkin used to describe "the mutually constructed membrane, cocoon, or womb that holds a couple together and protects each partner from outside elements. It is an agreement to put the relationship before anything and everything else.
It means putting your partner's well-being, self-esteem, and distress relief first. As well, it means your partner does the same for you. Essentially, what it boils down to is that "WE come first!"
In order for a "couple bubble" agreement to work, both partners have to create it, buy into it, own it, and prioritize it. The tasks of devotion and caring for the other's safety, security, and well-being needs to be honored with sincerity.
What's important to note is that devoting yourself to your partner's sense of safety is according to what makes them feel safe by their definition, not by your understanding of what that should be.
It's one thing to talk about the "couple bubble" in theory, but quite another to use it well. If you buy into the concept, then you will consider it to be your "primary means of support and protection." You and your partner each get to use it at any time, in any place, and given any circumstance to ask each other for help and expect that help in return.
My husband, who attended a workshop with Stan Tatkin and delved deeply into this book, now supports and understands the "couple bubble". He believes that "If we don't support each other unconditionally, then we cannot possibly realize the full potential of our marriage and see how amazing it really can be."
It wasn't always this way for us. Like so many other couples, my husband and I have had our share of struggles. Thankfully, this past summer my husband agreed to attend a wellness conference with me: and this is where he met Stan, learned the concept, and introduced it to me. Ultimately, this idea resonated with both of us.
Experiencing this "couple bubble" together over time shifted the dynamic of our marriage and helped us to carve out a new kind of partnership. It doesn't transform relationships overnight, as it is a process that takes ongoing energy and commitment, which is what it takes to build every new habit.
Anything we understand intellectually still has to be felt emotionally and lived experientially. This becomes an ongoing learning process and commitment.
Each of us has our own ways of feeling supported.  However, we ALL need to feel safe and secure—connected, protected, and cared for. For some it's a "couple bubble" that is required and for others it's a friendship circle that can act as a means of support and connection.
Women's Wellness Circles are offered monthly and do that as well. They create an inclusive and intimate environment and safe space for women to gather and grow. In essence, a Women's Wellness Circle can also be seen as a "bubble" – mutually constructed by like-minded individuals who are seeking support, empowerment, friendship, and community.
When people feel seen, heard, understood, and cared for, they feel happier, worthy and more fulfilled. The kinship of the Women's Wellness Circle is available monthly and can serve women seeking comfort and safety in a complementary capacity.
I encourage couples, as well as those who are seeking a partner, to read this book, or to find other supportive means that resonate with you.
Conscious partnerships and connections ultimately build healthier and more sustainable relationships, marriages, families and communities.
Terri Klein
Author, Speaker, Coach
https://womenswellnesscircles.com/wp-content/uploads/2020/01/blog-couple-bubble.jpg
441
667
Jill Hewlett
https://womenswellnesscircles.com/wp-content/uploads/2018/05/JILL_WWC-logo-1024x614.png
Jill Hewlett
2020-01-21 20:23:46
2020-01-21 21:02:54
The Couple Bubble