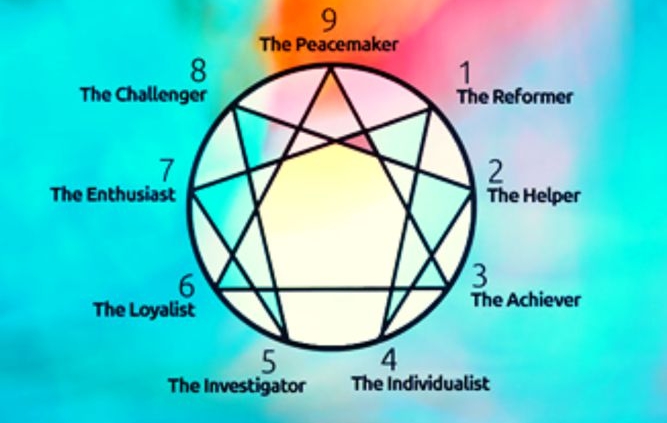 Thanks to the wisdom of well-respected and longtime astrologer, Dale Osadchuk, I am opening with a quote she recently shared…
"The Medicine Wheel is a symbol for the circle of life, forever evolving. Its message is for each of us to find our personal medicine, learning to walk in balance within ourselves and our Mother Earth, and to honour all life as Sacred. Medicine is anything that enhances your connection to Great Mystery and The Oneness.  The healing of mind, body and spirit leads to empowerment, strength and understanding, living your life to bring healing to Mother Earth and all her kingdoms. Walking your path in perfect harmony with The Universe."
This message had me reflecting on my work with the Enneagram personality system and its connection to our wholeness and to Women's Wellness Circles.
The Enneagram dates back at least 2500 years. Its symbol is a circle with an inner triangle and hexad shape. It connects the numbers 1 through 9 in a profound way, bringing to light the relationship between 9 personality types with different patterns of thinking, feeling, and doing in the world. Knowing our 'type' can assist us to understand our strengths, weaknesses, automatic reactions, and can support us in our journey to presence and balance.
The symbol of the circle represents unity and oneness – so, regardless of what number you primarily resonate with, we are all connected and have parts of each type within us.
Each type brings specific gifts and strengths into the world, and each has their struggles and self-defeating habits. As we come to understand and accept all parts of ourselves, we can focus on expanding our gifts and strengths and spend less time resisting our shadow self.
A brief description of each type:
Reformer: Principled, purposeful, self-controlled, and perfectionistic
Helper: Generous, demonstrative, people-pleasing and possessive
Achiever: Adaptable, excelling, driven and image-conscious
Individualist: Creative, Expressive, self-absorbed, and temperamental
Investigator: Perceptive, innovative, secretive, and isolated
Loyalist: Engaging, responsible, anxious, and suspicious
Enthusiast: Spontaneous, versatile, acquisitive, and scattered
Challenger: Self-confident, decisive, willful, and confrontational
Peacemaker: Receptive, reassuring, agreeable and complacent
Over the years of hosting Circle, many attendees have taken my Enneagram course. I'm noticing the unfolding of a group of women who are standing in their own light in a stronger way and being truer to who they are. This ripples out into a strong comradery amongst the Circle goers and into our community.
As a Type Two on the Enneagram, my natural tendency is to want everyone to feel happy and to be pleased with me. I like to be the one who is of service, so I make sure that I have looked after all the details to ensure that the night goes well. My antennae are always turned on, paying attention to signs that everyone is doing well.
Of course, our gifts are strengths when in balance.  However, when they are out of balance and in overdrive, it is not conducive to ease and flow. For example, when I am in stress, my inner guidance is not accessible.  I am not relaxed and trusting in others, in divine timing, or in the opportunity of each moment being exactly what someone needs. Therefore, I don't check in with the group to see what is called for in the moment as I feel responsible to already know it all and get everything right – ughhh!
As I tune in, my awareness allows me to trust, delegate, go with the flow and know that everything happens for a reason. I relax and enjoy the whole process from preparing the newsletter, to setting up the space and to hosting the Circle. I am filled with gratitude for all the moments and all the incredible women who come out.
I have noticed this same level of trust continuing to develop in the group. The true caring connections, the conversations that happen before, during and after Circle, have truly blossomed.
Another example is the Type Sevens, who are called the Enthusiast. They are often open to having fun and engaging in new experiences. A couple of Circle goers who have identified as Type Seven tend to sit together and then look over sheepishly when I bring the group together to start the gathering, saying, "this is probably a bad idea that we sit beside each other as we can get disruptive". Then they quickly giggle and say, "Oh well…!"   It's delightful to have their energy present within the group. And, it's a gift to experience all of the personality types who take part in Circle and to witness the expansion of everyone's collective light. As Dale would refer to it:  finding and sharing our medicine.
May each of you find the sacredness in your medicine wheel journey and may it include the experience of attending a Women's Wellness Circle in your area. It's time for us all to stand in our light and bring our gifts fully to our world. We are the ones we have been waiting for.
Let's rise together!
Karen Armstrong
WWC Host, Newmarket/EG
Reiki Master, Biophoton Light Therapist & Enneagram Coach
www.in-side-out.com
https://womenswellnesscircles.com/wp-content/uploads/2023/07/blog-enneagram.jpg
444
667
Jill Hewlett
https://womenswellnesscircles.com/wp-content/uploads/2018/05/JILL_WWC-logo-1024x614.png
Jill Hewlett
2023-07-06 03:50:54
2023-07-06 14:59:46
THE ENNEAGRAM AND CIRCLE CONNECTION