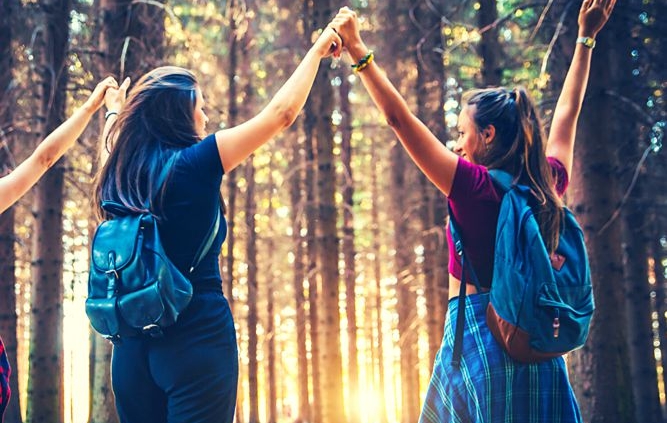 Today, I went for a walk. I am travelling this week in Vancouver, searching for a place for my daughter to live as she attends the University of British Columbia in the fall.  So, this walk was not my 'usual'!
I had a specific destination in mind as I set out.  However, as I started to walk, I found myself heading in a different direction.  Intrigued, I decided to just let my feet lead me.
I was fascinated as I walked, almost observing my movement as much as passing by the amazing sights!  It was like I was 'looking down' on myself while being in the experience at the same time. Have you ever had this sensation?
As I walked, I kept crossing under the big concrete overpasses. I marveled at the strength of their arches, the breadth of their span, and, curiously, in what I discovered underneath them…
Picture this:  a charming chandelier, hanging high, that must have been over 20 feet tall and 10 feet wide. How spectacular and odd!
A beautiful garden, carefully tended in a seemingly unfriendly and hidden concrete landscape. How amazing!
And a gathering of people.  Socially distanced.  Some wearing masks.  Some not.  Singing.
The sounds of their voices drew me forward to where they perched, standing on a gentle incline under the overpass.  The melody was sweet, and their voices gained strength as I approached.   The lilting notes washed over me; and I stood there, in reverence, soaking it all in.  What a blessing!
It has been a long time since I stood in the presence of song. In the presence of other people.  Gathered.  The strength of their collective energy was palpable.
What treasures to find under a highway overpass.
I noticed, too, that they were standing in a loosely formed circle, and it made me smile and think of our Women's Wellness Circles.
Soon we will be able to gather in-person again. To share our strengths, like the grand sweeping concrete arches of the overpasses. To shine with one another like the crystals of that chandelier. To tend to one another so that we can flourish in whatever landscape life presents us. And to gather with our voices. Voices that share stories, knowledge, and challenges. Voices that have the power to lift us up.
I reflected on all of this for the rest of my walk. When I looked at a map later, I realized I had walked in a giant circle. Truthfully, it brought tears to my eyes.
Today, I invite you to consider letting your feet wander. See where they take you.
Be aware of the many treasures all around you and within you.
Even if you, too, find you walk in a circle, arriving back to the same starting point, you may also find you are not the same person you were when you started out.
To the Meaningful and Magical Circular Nature of our Lives.
Lauren Helmkay
WWC Host Georgina
https://womenswellnesscircles.com/wp-content/uploads/2021/06/blog-came-upon.jpg
444
667
Jill Hewlett
https://womenswellnesscircles.com/wp-content/uploads/2018/05/JILL_WWC-logo-1024x614.png
Jill Hewlett
2021-06-27 18:22:04
2022-04-04 15:46:20
I CAME UPON A CIRCLE